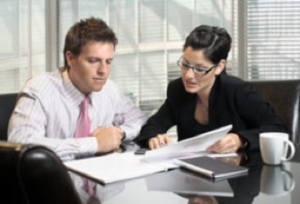 We often hear people complain about weak communication and guidance.  We hear it from all organizational levels – including supervisors, managers, and executives.
Early in my career, I spent an hour a week, one-on-one, with each direct report.  The sessions were valuable to both of us.
I listened and learned from each person.  We discussed each workflow, questions, and concerns.  Goals and priorities were clarified.  For each of us – manager and employee – our conversations and agreements were empowering.
Those meetings were an opportunity for us to communicate.  The conversations connected me to each person's actions and processes inside and outside of the department.
As the company changed, one-on-ones became more important.  Accelerated growth required more listening and communicating as transactions increased and issues expanded.
The one-on-one process is simple.  It is scheduled and uninterrupted.  It's not a micro-management opportunity.  It is an environment to discuss issues and concerns, identity pro's and con's, alternatives and next steps.  It empowers employee and manager.
I challenged each to take ownership of their one-on-one meeting with me.  Prepared agendas could include anything related to people, processes and projects; metrics and budgets; and near-term commitments.
My role was to listen, clarify, and ask questions.  The sessions were mutual learning opportunities.  They encouraged 360-feedback and built trust.  They improved coordination inside and outside of our departments.
When complex matters needed consideration by others, we deferred decision-making until the Weekly Staff Meeting (here) where colleagues could discuss the situation, ask questions, and offer suggestions.  We had our share of disagreements, but everyone's input was encouraged and respected.
When matters outside of our departments needed coordination, we organized our thinking and determined how to best approach the right people from other functional areas.
One-on-ones are a valuable leadership tool.  People crave connection and communication at all organizational levels.  People need direction and feedback.
In a world of emails, detailed phone messages, and impersonal communication; nothing speaks louder about respect and empowerment than routine one-on-ones.
After you have adopted the practice of routine one-on-ones with your managers, insist that they conduct routine one-on-ones with each of their direct reports.  It won't take long to see and feel the improvement in productivity and morale.
Terry Myers, Principal of Business Edge, is an experienced Management Consultant. He partners with Tom Schnurr to guide companies to bridge the gap to revitalize and optimize stakeholder value. 
Contact Terry at tmyers@bizedgeusa.com, or Tom at tschnurr@bizedgeusa.com.