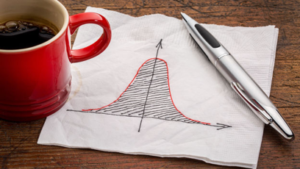 For many of us, annual performance reviews are a pain – whether we are preparing them, giving them, or receiving them.  Anticipated emotions, conflicts, and surprises raise anxiety levels.  Ugh!
Salary discussions are often front and center.  Performance often takes a back seat.
Studies show that many think they are above average.  They want to be RATED and PAID as such.
Take a random sample of ten people – a couple are unusually strong, a couple are unusually weak, and the rest are somewhere in between.  Eight average performers "meet expectations."  Therein lies the difficulty.  Many can't admit being average.
People who expect their performance to "exceed expectations" come face-to-face with reality.  They only "meet expectations" while some are "below expectations."  It is in black and white.
Some take it personally, and they offer reasons, excuses, and extenuating circumstances.
Then there are the action plans for follow-up and correcting weaknesses.
Some managers find it easier to praise strengths than to discuss weaknesses.  They take the easy route and avoid confronting any people problems.  They see everyone as an A or B player.
Get real.  Not everyone is an A or B.  There are many C's, D's, and a few F's – in your organization.
Human Resource people tell us that personnel files are poorly documented.  Often when an employee needs terminating, his files are loaded with "meets expectations" and "exceeds expectations" ratings.  Meanwhile, everyone knows that he is not doing his job, and hasn't been doing his job for a long time.
Suggestion: give performance reviews more frequently – quarterly.
Three results: (1) familiarity reduces tension, (2) personal goals and recent situations are top-of-mind, and (3) performance is detached from annual salary discussions.
Try it.
You say people are your most valuable asset, prove it.  Create opportunities for feedback.
How can you better use your time than motivating A Players to keep "exceeding expectations," coaching B's and C's, and managing D's to become C's?
What to do with the F's?  Terminate them.  They are not bad people.  They just don't fit.  There's no time for coddling and hand-holding.  Everyone knows it.  Long term, you are doing them a favor.
Performance reviews are not easy.  However, the more frequently you do them, the less stressful.  Effectively done they take time, critical thinking, and skill.  Don't gloss over them.  Face reality and grow your people.  The payoff is enormous.
Terry Myers, Principal of Business Edge, is an experienced Management Consultant. He partners with Tom Schnurr to guide companies to bridge the gap to revitalize and optimize stakeholder value. 
Contact Terry at tmyers@bizedgeusa.com, or Tom at tschnurr@bizedgeusa.com.