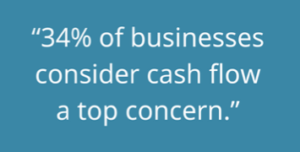 When there are cash shortages, cash controls your business.  Stress levels increase, and the answer to the simplest question depends on your cash balance.
Poor cash flow is not just Finance's problem.  It is everyone's problem.  The pressures to collect cash for paying payroll, payroll taxes, suppliers, and lenders effects Sales, Operations and Finance.  There are often closed-door meetings and phone calls, and concerns that both insiders and outsiders will hear about it.
A tool for getting control of your cash-flow is a Thirteen-week cash flow forecast.  The Thirteen-week cash flow is a spreadsheet organized horizontally (week by week) and vertically by forecasted receipts (cash-in) and expenditures (cash-out).
The ending cash balance each week is the beginning cash balance for the following week, and so on for thirteen weeks.
Some include effects of their revolving credit agreements and calculate the details of available line-of-credit draws and payments.
While forecasts are always wrong, they quantify all the details to clarify problems and opportunities.  After a few iterations, it is all there in black and white.
Once formatted to your company's needs, the Thirteen-week cash flow allows you to plan and adjust for unexpected hiccups.
The process of building a 13-Week Cash flow model is straight-forward –
Start with a 3-month week by week sales forecast.  Salespeople know your customers better than anyone.  They know what, when and why customers buy your products.

Be conservative.  Follow the 80/20 Rule and use the A, B, C forecasting method. Forecast larger customers then move to the smaller ones.

Credit people can estimate cash-in week-by-week based on customers' prior payment histories.

Estimating cash receipts from current receivables is the highest priority.  Using the same payment histories, estimated receipts from the Sales peoples' three-month forecast.

Payroll and Accounts payable people have the details of the payment requirements – payroll dates, payroll taxes due, rents, supplier invoices, banks payments, etc.  Schedule individual payment estimates over the 13 weeks – week-by-week.

Some choose to detail larger supplier payments line by line, then group smaller suppliers as one.  Reschedule missed supplier payments into the future.
The first draft of your 13 Week cash flow will confirm "how bad" your condition.  It is all on one page, and you can check it daily.  Repeat the 13 Week process every week until you learn to improve forecast accuracy.  You will learn to refine details through repetition.
Once you feel a sense of control and have some "best estimates," you can contact third parties, discuss your situation, and renegotiate terms.  Moreover, your banker will have a sense of confidence that you have a plan and may be willing to help.
Use the Thirteen-week cash flow tool for getting control and keeping control of your situation.  It is not just for cash crises.  It is a useful tool for year-round cash management.
Terry Myers, Principal of Business Edge, is an experienced Management Consultant.  He partners with Tom Schnurr to guide companies to bridge the gap to revitalize and optimize stakeholder value.  Contact Terry at tmyers@bizedgeusa.com, or Tom at tschnurr@bizedgeusa.com