CAPABILITIES AND EXPERIENCE
No matter how complex your business questions, we have the capabilities and experience to deliver the answers you need to move forward.
Eight Years Of Turnaround Consulting in the Midwest
59 (Multiple assignments at 22 companies)
Manufacturing, Service, Distribution, Technology, University, Government, Agriculture, Construction, Forestry, and Retail
Assessment 
For management & third parties 
Turnaround and Restructuring
Operational

Financial

3 TMA Turnaround of Year award 
Management Consulting
Board & Senior Level

Interim Leadership, Business Plans

Processes: Management, Marketing and Sales, Manufacturing and Quality
Ownership Issues (advice / assistance)
How can Business Edge help you? Simple. We save you time and money. We get right to the heart of the matter, and regardless of how difficult and complicated a situation is, we can help you see through the distractions, sort through the layers and get rid of the extraneous to sort out the problems that inhibit results. Then we can help you develop management processes and solutions and guide you through implementation. Business Edge has offices in Des Moines and Minneapolis.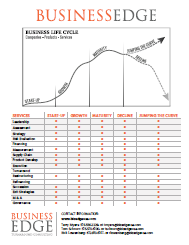 Jumping the Curve
Learn how Business Edge can help your business, based on where your company falls on the Business Life Cycle.