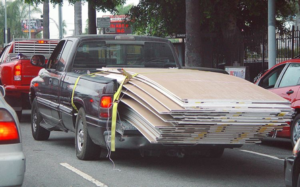 A friend was CEO of a billion-dollar construction company.  We were talking about work-related accidents.  He said that loads falling off trucks cause a high percentage of construction accidents.
Imagine that – when people carelessly load their vehicles, accidents happen.
Some managers carelessly overload their people with too much management and too little leadership.
You need both management and leadership.  Problems don't occur by accident.  Some problems are accidents waiting to happen.  Beware of:
Burn out.  Managers who keep reprioritizing, right-sizing, and realigning wonder why people eventually say, "Enough is enough" and leave.  Some managers are exhausting.  They confuse constant turmoil with change management.
No information.  Some managers expect people to perform their jobs with little or no feedback and information.  Their unstated message is that they don't care, don't trust, or disrespect their people.  Some provide performance feedback only during annual reviews.
High turnover.  Some companies give little training and provide ineffective supervision, then express surprise when people get frustrated and leave.  They often blame low pay scales rather than poor orientation sessions, training, and long-term development opportunities.
No accountability.  Some management teams talk and talk about recurring problems, make no effort to correct them, and tolerate mediocre performance.  When there is no accountability, there is finger pointing, CYA Memos, and "he said, she said" conflicts.
Poor communication.  Poor communicators speak and write using vague, foggy and inconsistent language.  Good communicators are open, honest and frank.  They listen, clarify and offer encouragement, articulate consistent vision, and walk-their-talk.
Meager leadership.  Some managers cannot and do not lead.  They forget who works for whom.  They don't practice the Golden Rule, don't insist on accountability, don't communicate face to face, or don't let people use common sense.
If your organization has a history of high turnover, lots of short-termers, and good people leaving for no apparent reason, read the tea leaves.  Ask questions.  Drill down to causes.  It may not be "them."  It may be "you."
If anyone is brave enough to tell you that your Team's managerial skills need improvement, listen and thank them.  Then, take corrective action.
Take charge.  Lead.  Actively listen and communicate.  You may be the manager, but your people are stakeholders too.  They want to succeed, and they want their company to succeed.
When you ignore the issues, you risk them festering into bigger problems, and eventually serious problems.
Poor managerial habits left uncorrected are accidents waiting to happen.  Ignore them at your own risk.
Terry Myers, Principal of Business Edge, is an experienced Management Consultant. He partners with Tom Schnurr to guide companies to bridge the gap to revitalize and optimize stakeholder value. 
Contact Terry at tmyers@bizedgeusa.com, or Tom at tschnurr@bizedgeusa.com.