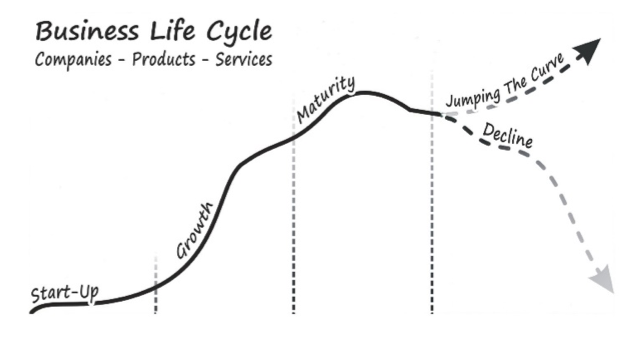 We use the term "business cycle" to describe economic conditions like growth, decline, and recovery.
Some industries have business cycles that may differ from the general business cycle. Some decline sooner than others. Some recover later than others. For example, strength or weakness in the transportation and logistics industries are early indicators of economic expansion and decline.
We use the same business cycle terminology to describe companies. There are start-ups or early development companies, rapidly growing, and mature companies. There are also companies in decline and those trying to jump-the-curve by innovating or returning to profitability.
Likewise, business cycle terminology applies to product life-cycles. Some of your products may be "start-up," some may be "mature." Others may be "growth" or in "decline." You may be developing a platform of new products and services to "jump the curve" to future growth.
Understanding your industry's business cycle and your product and service life cycles are important planning tools. You may have access to published data, or anecdotal information, or a combination of the two.
Understanding your position – compared to your competitors – may influence your planning and investment decisions.
What is the future of your industry? Where and why?
What skills, products, services, and technologies will you need to compete?
How can you use your current service offering(s) to help you bridge the gap to be more competitive?
Where and how should you be spending your investment dollars? Investing in training and education? Equipment and technologies?
How can you expect current and future product offerings to influence your profits and margins?
When should you begin transitioning to a new strategy? Do you want to risk leading or risk following?
Who – inside or outside of your organization – has the vision and skills to lead your people, manage resources, and understand the competitive pace-of-play?
How can you minimize obsoleting past investments in your productive capabilities?
Why are you comfortable with these conclusions and plans? Have you considered all the reasonable alternatives? What could go wrong?
These are generic questions that apply to many. Search your company's knowledge, experience, and understanding to find others.
Then, talk with your customers, suppliers, and supply chain colleagues.
Also, consider unrelated industries to learn about their processes and technologies. They might be offering product and service approaches that easily lend themselves to your industry.
If you are building your company for the long term, become a student of your industry's business cycle and know your product and service life cycles. Aggressively differentiate your company and develop momentum to jump-the-curve.
Terry Myers, Principal of Business Edge, is an experienced Management Consultant. He partners with Tom Schnurr to guide companies to bridge the gap to revitalize and optimize stakeholder value. Contact Terry at tmyers@bizedgeusa.com, or Tom at tschnurr@bizedgeusa.com