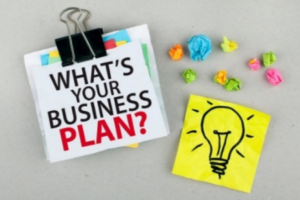 Your business plan is your primary business development tool.  It communicates your vision, direction, and goals.  It defines the organizational structure, sales, operating, and financial performance benchmarks.
From the outset, Owners should lead the planning process.  They should explain their vision, direction, goals, and guidelines for investment, debt, etc.  Managers and key staff prepare the plan for presentation and review by the Owners and the Board.
Planning engages people at all levels, encourages debate and decision-making.  Plans answer the what, why, when, where, who and how questions.
A summary plan does not need to be more than 3 to 5 pages.  Across the planning horizon, the plan should declare your business's:
Purpose and goals;
Internal strengths and weaknesses, and external opportunities and threats;
Organization structure and accountabilities;
Core capabilities and processes;
Significant operating policies to add, remove, or change;
Sales, operating, and financial priorities and targets;
Major projects and initiatives;
Significant risks to mitigate; and
Financial forecasts, ratios, and covenants to monitor.
The Strategic Planning horizon is usually three to five years.  Annual Operating Plans are twelve-month rolling plans.  Strategic Plans are reviewed quarterly and updated annually.  Annual Operating Plans are reviewed monthly and updated as corrective actions or amendments are necessary.
Many companies do not have written plans – some say that they do not know the future, they are too busy, or ______ (fill in the blank).
While no one knows the future, an organization needs to have workable strategies, plans, and policies for distributing resources to meet customer, labor, and financial challenges.
An unplanned business is an under-managed and under-led business left to personal notions, and there is no structure for prioritizing and filtering decisions.
Owners and managers need plans to communicate and align resources.  Managers and employees need plans to understand which opportunities to leverage and what priorities to execute.  All share ownership in results when plans are routinely communicated and measured.
When there are written plans and organizational buy-in, there is a roadmap for communication, measurement and business development.
Terry Myers, Principal of Business Edge, is an experienced Management Consultant.  He partners with Tom Schnurr to guide companies to bridge the gap to revitalize and optimize stakeholder value.  Contact Terry at tmyers@bizedgeusa.com, or Tom at tschnurr@bizedgeusa.com.